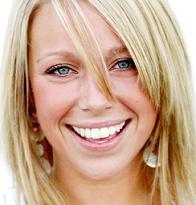 Entrusting your dental health and your smile to someone is a big step. It's no different from choosing a physician. You want a dentist who knows what they are doing. A dentist you can trust, a dentist who listens to your concerns and pays attention, a dentist you feel good about coming back to see again.
We're your lifelong dental health partner.
Our comprehensive philosophy differentiates us as "dental health partner" rather than simply a dentist.
What does this mean for you? Great dentists don't simply fill teeth—we're confidence builders who have an eye on the big picture in regard to your teeth. By offering a wide array of care and treatment options, you can have a beautiful healthy smile for a lifetime.
We're passionate about our work.
Our entire team truly enjoy dentistry. Even though we work in a relaxed, friendly atmosphere, we're passionate about our work and are dedicated to our patients. Our philosophy is that we are providing treatment to the whole person—not just their teeth.
What does this mean for you? Since it's a given that you're always going to receive a warm welcome, the best care and outstanding results when you visit us, you'll be comfortable the minute you arrive for your appointment.
For complete relaxation, sleep thru dental treatment.
Fear and anxiety are two of the biggest factors why a large number of Americans do not seek dental care today. We understand your anxiety and want to help. We offer conscious sedation dentistry, it is as simple as taking a pill and waking up to a beautiful new smile.
What does this mean for you? No Shot, No Pain, No Drill Noises to bother you. You will be in a conscious but deeply relaxed state, and constantly monitored by our experinced team. Having a healthy, beautiful smile has never been so enjoyable or easy!
Enjoy state of the art Dentistry with Best Materials and Labs
Being on the forefront of dentistry is our quest. That's why we have invested in the best that technology has to offer, use the best materials, and work with the best laboratories. The doctor and staff continually attend continued education courses with with some of the best clinicians in the country.
What does this mean for you? The technologies along with quality dental care available translates into peace of mind and long lasting smiles.
Your mouth is a window to your health.
Our office uses safe, non-toxic biological dentistry to promote health and wellness. We are completely "Mercury-Free" practice and use non-toxic restorative materials for dental work. We realize the unrecognized impact that dental toxins and dental infections may have on a person's overall health.
What does this mean for you? We take dentistry to the next level. While traditional dentistry focuses only on the areas above the neck, biological dentistry looks at the patient as a whole system and how the mouth relates to the body.
Enjoy Plush Tempur-pedic Chairs, Neck Pillows, TV/Video Entertainment